Abvent announces Artlantis 2020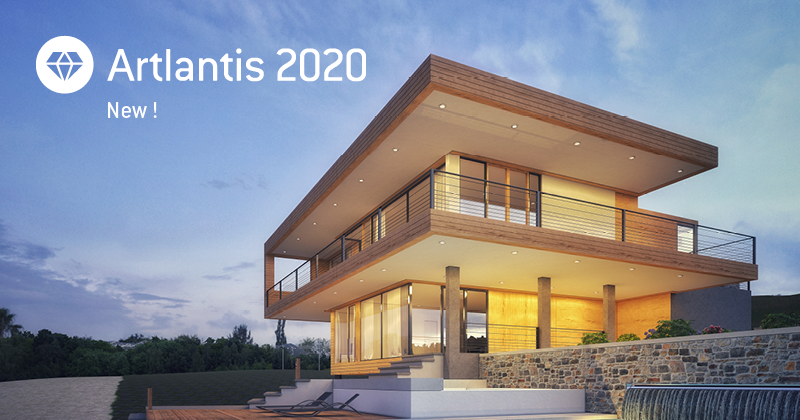 The latest version from the pioneer in architectural rendering
France's Abvent Group has announced the latest version of its flagship architectural rendering software. Artlantis 2020 introduces a palette of new features and subtle settings that further enhance the quality and realism of renderings.
3D Grass
The integrated Media catalog offers 4 new grass types and 6 updated types of 3D grass enhanced with new settings: adjust the color of the grass tufts, apply density variations — the size is automatically calculated zone by zone.
Denoiser tool
Decrease, or even cancel, the noise from renderings, typically produced by the reflection from shaders. The Denoiser tool analyzes the image's pixels and reduces the noise, saving time on post-processing.
RAL colors and tints
Artlantis 2020 offers 243 colors and tints from the RAL Effect, RAL Design, and RAL Classic color chart, which are the defining paint standards in the world of architecture and building construction.
Portals
Portals is a new optimization setting for managing light in Artlantis when using low settings for a fast calculation of renders. This option improves the brightness of indoor scenes and removes the noise from the image.
The easiest and fastest photo-realistic rendering and animation solution on the market for any 3D project, chosen by more than 100,000 architects, designers and urban planners in over 110 countries, Artlantis owes its international reputation to its fundamental qualities:
Real-time preview
Navigation, changes to materials, lights or the 3D environment, insertion into the site…everything is instantly visible in the preview window.
Speed
Display, navigation, spatial positioning or light dispersion, in the preview as well as in the calculation and final rendering, Artlantis is exceptionally fast. While global illumination — the guarantee of the scene's realism — usually needs massive amounts of computing time, Artlantis is the only rendering software to offer a beneficial quality/computing time ratio.
Universal
On both Mac and Windows, Artlantis is compatible with almost all the 3D modelers on the market.
Site insertion
Only Artlantis satisfies this requirement for building permits! Its use is simple and fluid and its settings are visible in the preview window. And for even more realism, add foreground images and set their transparency right inside Artlantis.